Tri-Valley kindergarten registration and screening will be held Friday, March 24, 2023 from 8:00 a.m. to 3:00 p.m. If you have a child who will be 5 years old on or before Sept. 1, 2023, please either call the school or sign up online by selecting the sign-up button below: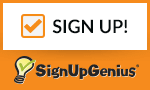 Please bring the following along to registration:
A CERTIFIED COPY of your child's birth certificate
His/her Social Security card
If your family is new to our district, please bring proof of residency. Proof of residency may include 2 of the following:

Utility Bill
Rent Receipt
Phone Bill
Homeowner/Renter's insurance policy
A copy of your child's immunizations must be turned in to the school nurse prior to the 1st day of school.